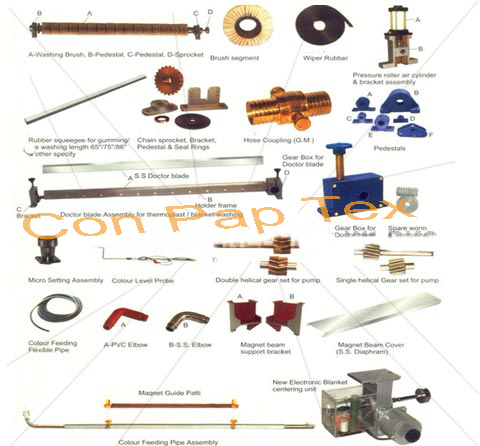 We are leading manufacturer, exporter and supplier of Spares for Rotary Printing Machine international standard from last 25 years from India. Spares Parts for Rotary Screen Printing Machine Like Printing Unit Lifting Bevel Box, Hand Wheel, Screen drive Gear Shaft, Screen Drive gear, Fork Assembly, Muff Coupling, Eccentric Type, Bearing, Rollers MS etc. We also manufacturer of Coating Machine, Lamination or Rotogravure Printing Machine as per industrial requirements.
Spares For Rotary Printing Machine
1. Washing Brush Assembly
2. Brush Segment
3. Wiper Rubber
4. Pressure Roller Air Cylinder Assembly
5. Rubber Squeegee for Gumming
6. Chain Sprocket, Pedestals, Seal Rings
7. Hose Coupling
8. S.S. Doctor Blade
9. Gear Box For Doctor Blade
10. Spur Worm & Worm Wheel
11. Micro Setting Assemble
12. Color Level Probe
13. Double & Single Helical Gear set for Color pump.
14. Color Feeding Flexible Pipe
15. PVC & SS Elbow
16. Magnet Beam Support Bracket
17. Magnet Beam Cover
18. Color Feeding Pipe Assembly 72" Length complete
19. Electronic Blanket Centering Unit.